Crime dramas seem to be a dime a dozen these days from CSI: New York to such new fare like NCIS:Los Angeles….it seems like no matter where you turn, you can't escape crime and even transcended into the video game world. Crime games are nothing new and have been around forever and infact my first crime game was Deja vu on the NES and now I sit down with the newest crime game…Southpeak Games' Crime Scene.
I was contacted by South Peak a few weeks ago to check out one of their newest DS titles and Its one of the first times as a journalist that I've been asked to do something like this so suffice to say, I immediately jumped on the chance. It was really cool because it came on a cart that I have never seen before and I've got a admit, it made me feel like an industry insider.
Crime puts you into the shows of a new forensic detective named Matt Simmons and already not 10 minutes in the door you are called away on a case about a potential murder suicide of a fellow police officer. The game is portrayed like a point and click adventure with an art style that suits the game and seems right at home with the feel of the game's dark subject matter.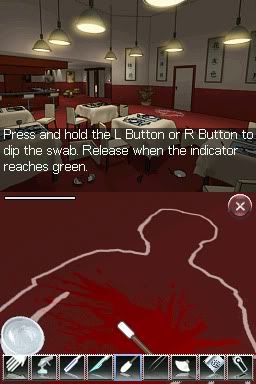 I'll only talk about the first bit of the game simply because no one wants to be spoiled before the mysteries are finished.
The play style allows you to explore crime scenes using tools of the trade like swabs for fluids and finger print kits and the tweezers to collect bullets and other small clues and several other forensic tools familiar to those of the CSI persuasion. It was something different then what I was expecting as I started swabbing blood from an exit wound on the wall from someone's murdered wife.
That was pretty cool.
The thing that I liked most about this game is that it didn't pull any punches when it came to descriptions of the crime scene's such as "..her chest was pulverized." and that really grabbed my attention. Using the stylus to interface with the crime scene can be a fun but at times frustrating especially when it comes to swabbing but this game also requires finesse and patience both of which are lacking on the FPS generation. Getting into the head of the investigative mind was a tremendous draw for me especially when you got into the crime lab section of the game and started playing with some of the forensic tools.
The game really does have a difficulty curve to it but that's part of the charm as it's like a crime itself,some crimes are easy to solve and some are quite the puzzle in themselves. You have something called a credibility meter and each time you screw up, it goes down so it really helps to pay attention when the game tells you to do something and do it right the first time. It'll take a little bit of getting used with tools like the fluid swab but eventually it becomes second nature. I'm a bit of crime nut and it was fun to play a game like this on a handheld since I haven't tried any of the CSI games or even the Murder she wrote games but thats more because of the horrible reviews then lack of interest. Solving crimes is something that happens every day and shows like Criminal Minds and CSI and the like all portray it in a different light and Crime scene tries to give you a taste of that world and I had fun with it. The difficulty is what will challenge most players but if you sit down and act like a real detective, I think your in for a real treat.
I was asked to not play past a certain point in the game and thats fine because I'll be looking forward to playing this game when it's released in February 2010.
Overall, I had a great time with this game and it's what I've been looking for in terms of a forensic game should be, challenging and really makes you think about examining a scene and one of the coolest parts is using the microscope and the laser to eliminate unwanted cells on a slide.
Look for Crime Scene in February 2010 for your Nintendo DS.